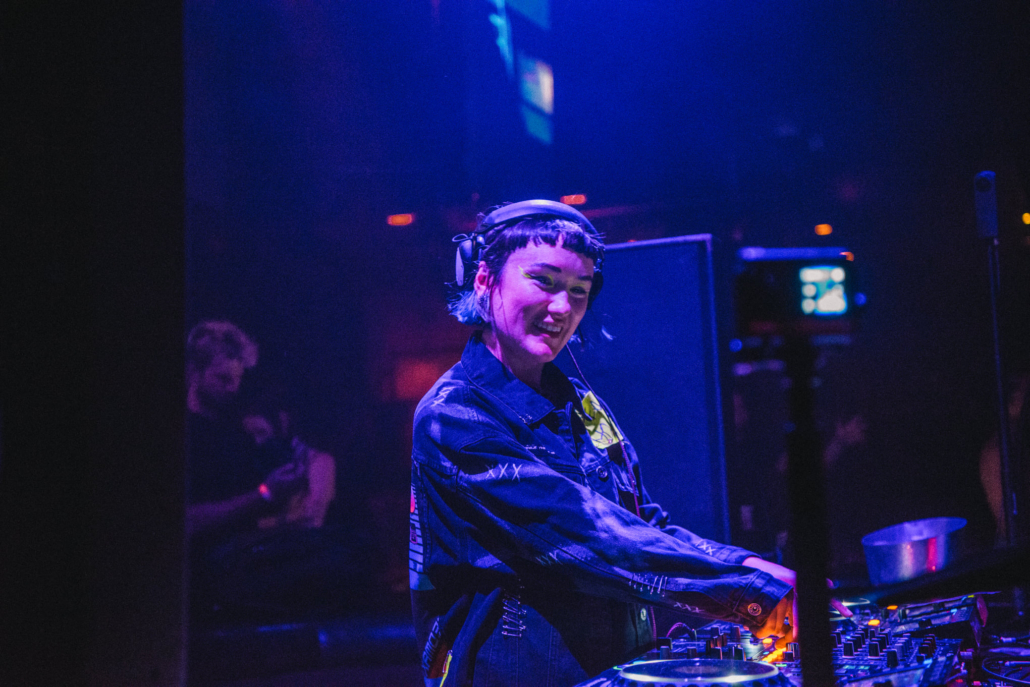 In an exclusive Q&A, Dancing Astronaut looks ahead to Seismic Spring: Lite Edition in Austin, Texas. The boutique house, techno, and underground festival takes over The Concourse Project from May 19 – 20.
---
One of mau5trap's most promising young protégés, Speaker Honey has grown tremendously since the COVID-19 pandemic. After debuting Night Visions in 2020 and releasing an official remix of deadmau5's "FALL" shortly thereafter, the San Diego native has coasted toward widespread recognition as one of techno's most engrossing newcomers.
Last month, Speaker Honey cemented her first release of the calendar year, Dance In Time, co-produced by fellow San Diegan and one of Dancing Astronaut's Artists To Watch in 2023, Burko. The EP, which included the title track and the twofer's B-side, "Levitate," officially landed via mau5trap on April 7.
Now, the weekend of May 19, Speaker Honey will join the ranks of John Summit, Sofi Tukker, Hot Since 82, Dillon Francis (as DJ Hanzel), and TESTPILOT (deadmau5) in tending the decks at Seismic Spring: Lite Edition.
In a recent update, Seismic Spring: Lite Edition organizers announced that the event will move indoors due to inclement weather forecasts. "It's going to add a dramatic effect to the sets," says Speaker Honey.
Hear more from the rising talent in Dancing Astronaut's exclusive "Meet the Underground Talent" of Seismic Spring: Lite Edition Q&A below. View the full lineup and purchase tickets to the event here.
---
How did you find success in developing your artist project during the pandemic?
Speaker Honey: "Yeah, it was really tricky. I first got signed to mau5trap in 2018, and then I got put on tour with No Mana in January 2020. I was touring different cities every week; then, all of a sudden, quarantine. It took me aback because I had to continue my artist project from my bedroom without being able to go out and represent myself properly. So, I started streaming on Twitch. I started reviewing people's demos every Monday during quarantine. And that turned into my Discord community called 'Speaker Haven.' It's turned into a whole presence built on sharing information and conductivity for bedroom producers, and it was basically my way of staying relevant. I also started doing a lot more photoshoots for clothing brands that weren't getting represented at festivals… Since, you know, there weren't any."
What do you hope people might get out of joining your new Patreon?
Speaker Honey: "What's cool about the Patreon is it's a four-tier system. During quarantine, I was doing the works-in-progress Twitch streams, but I wanted to offer more structured consultations. I've been hosting "stages" on Discord every week. I had Chris Regalado from Dark Matter Sound Systems come on the past couple of weeks to speak about studio and audio design… The main idea has been to create a conductive space to grow together. On Patreon, I also offer 90-minute one-on-one consultations to go over branding, marketing, general career stuff, and how to get yourself off the ground."
You most recently issued a collaborative EP with Burko, Dance In Time, on mau5trap. How did you first meet Burko, and what was it like working together?
Speaker Honey: "It was so fluid! We both knew each other from the San Diego scene, and we'd talked about collaborating sometime. One day, he came over to my home studio. I figured we could come up with a couple demos, and if anything clicked, we could run with it! He showed me the skeleton of 'Dance In Time,' and I said, 'let's work on this one right now.' It was a very easy workflow. We were both really good at communicating what we wanted out of the record. We basically finished 'Dance In Time' in that same session, so we started working on something new from scratch, which turned into 'Levitate.' Both records kind of naturally came into existence. We shared the files back and forth a few times, but it really didn't take too many sessions!'
You've called your sound "electro-techno-pop." What elements of your music production differentiate you from similar artists?
Speaker Honey: "I really feel like I'm defining an authentic Speaker Honey sound at this point. I think it's my playfulness with the darkness. I love old school electro, melodic trance… My stuff is a bit more future-forward and lighthearted than what I've heard other artists pursuing. I'm naturally a bubbly spirit, so that mixed with my dark techno appeal has sort of formed my own lane."
What's your go to synth plug-in, and how much emphasis do you place on DIY sound design?
Speaker Honey: "ANA 2, by Sonic Academy! And I like the idea of presets; I'm not afraid of using a preset if it's something I enjoy. Sound design is a really important aspect of music production, but you don't have to know how to synthesize your own sounds to make good music."
What most excites you about playing Seismic Spring: Lite Edition?
Speaker Honey: "I'm so excited to get to be at The Concourse Project! I've heard so many good things about what the [Seismic] team is doing. Also, the lineup has some pretty heavy-hitting names. I think it's going to be a monumental moment for my visibility as a techno artist. I'm excited to hear everybody's sets and experiment with some of the new sounds I've been working with. They did just announce that it's moving inside due to thunderstorms, but I'm actually stoked about that. I live indoors most of the time; my music fits an indoor warehouse type setting. The mood of the day completely changes when there's thunder and lightning and rain and stuff, which is going to add a dramatic effect to the sets."
Who on Seismic's lineup would you love to collaborate with someday?
Speaker Honey: "I'm just going to be real and say TESTPILOT. Most of my records have been released through mau5trap, and I've been building a good relationship with Joel [Zimmerman] as a person. I've played multiple events supporting him as both TESTPILOT and deadmau5, and I think a Speaker Honey-TESTPILOT collab would be fire. I did go to his studio earlier this year in Toronto; maybe one day something will come out of that…"
---
Featured image: AVALON Hollywood
Categories: Features