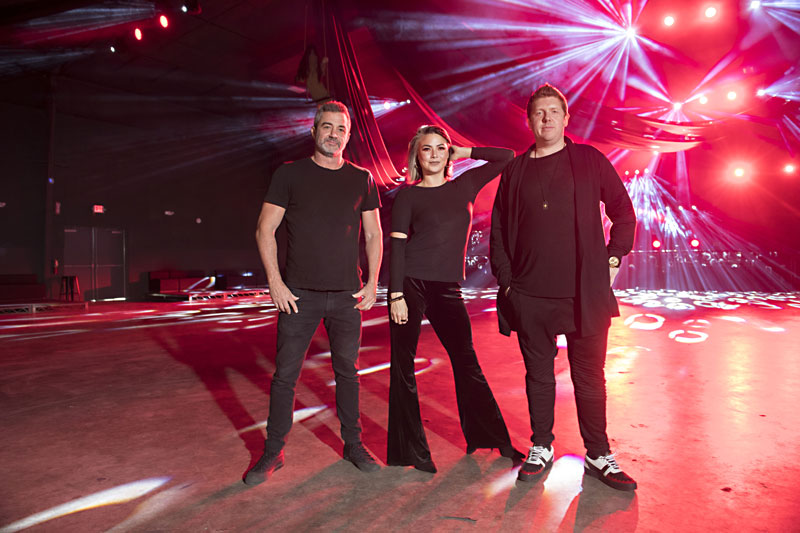 Over the weekend of May 19, house & techno fans from around the world flocked to Austin, Texas to witness Seismic Dance Event's freshly executed Seismic Spring: Lite Edition. The two-day event marked a brand new "in-between" showcase hosted by married business partners Kelly Gray and Andrew Parsons, who launched Seismic in 2018, and who are the proud co-owners of Austin's globally esteemed music venue, The Concourse Project. Last weekend, Seismic Spring delivered a top-tier schedule of performances from the likes of John Summit, TESTPILOT, Sofi Tukker, Chris Liebing, Hot Since 82, DJ Hanzel, among others. The Boutique House & Techno Music Festival's next major installment, Seismic Dance Event 6.0, will return to The Concourse Project in Austin, later this year, November 10-12.
On-site at Seismic Spring, festival organizers Gray and Parson sat down with Dancing Astronaut to unpack Seismic's resounding legacy, the festival's origins, and the outstanding dance community they've cultivated in Austin. Purchase tickets to Seismic Dance Event 6.0 here, and read the exclusive Q+A with the festival's co-founders below.
---
What differentiates Seismic from other house and techno events?
Kelly: "The community is the first thing that comes to mind, paired with the precision of the production and talent buying. I was just having a conversation with Coco & Breezy. They were talking about how much they love coming here, and how they've really developed a fan base in Austin because of Seismic."
Andrew: "It's hard work, but it makes things a lot easier that Kelly and I have shared similar goals with ultimately the same vision."
Kelly: "A very fundamental reason behind our success, and what makes this whole thing so magical, is also a subset of the community we've created… Our team. We have a really tight core team that operates The Concourse Project and runs our festivals. Most of our core team members have grown within the organization, and we're all linked by the passion for what we're doing, the scene, the music… Most of us started off as DJs, producers, dancers, in street teams passing out flyers. It's really special because we're not backed by a corporate entity. We're independent and have always had this 'We'll do it ourselves' mentality. The community around us rallies together to enjoy it, but it's definitely the team that drives it."
Which came first, your romantic relationship or Seismic?
Kelly: "We met around 2005, and then by '08 we were an item. By 2009, we were throwing shows together… And then in 2012, we got married. In 2018, we started doing our one-stage festival showcases, which was the same year Seismic was born."
Andrew: "It's funny… For the longest time we'd been saying, 'We're going to do a festival at some point!' We had been trying to come up with a brand for so long, coming up with random ideas. Eventually, Kelly came up with the whole concept for Seismic."
What inspired doing a lite edition of Seismic Dance Event?
Kelly: "We told ourselves we would never do two festivals in a year again because it's just too much work. Plus, we have our venue to run, and we do shows here all the time. But one day I thought, 'What if we try a mini-Seismic, so we can enjoy all the aspects of the festival that we love?' It of course ends up being not-so-mini because we care about all the details!"
How prepared was the team to move the festival indoors, should weather pose an issue?
Kelly: "We have a running joke that we're professional event re-locators. We've had a history of facing bad circumstances. The first Seismic actually had to be relocated four days prior to the event because of weather. It was flooding at this outdoor venue that we were supposed to use, so we had to move it to the Travis County Expo Center, and we did it. We pulled it off, everyone had a good time. But we've become used to this type of thing."
Andrew: "The joke is that it's literally the Bermuda Triangle that we have to deal with."
Kelly: "The Texas weather forecasts don't actually hold that much weight, but once you get to a certain point, you have to make a make-or-break decision. You can easily get past the point of no return if you go too far into it with high hopes. We didn't want to risk that. So, we reformatted [Seismic Spring] to be indoors, and we implemented the whole new patio experience all within a week of the event."
How do you envision Seismic expanding in the future?
Andrew: "We're definitely always trying to figure out what we're doing with it and where it's headed, especially now that we own this space. These events have been a true test of our ambitions, having to pivot the way we have in the past, even introducing the patio for Seismic Spring. We're still trying to figure out what we want to do with it; we want to grow it, for sure. But at the same time, like Kelly said, we've built a tight-knit family…"
Kelly: "Keeping that boutique vibe is really important. In most people's minds, they'd think, 'Growth is the definition of success.' And of course, in many ways, growth is crucial. But there's a certain threshold where you want to maintain its intimacy, to an extent, because you get to cultivate that very specific energy. So, it's finding that right spot where we're also able to accommodate the very dope lineups we're assembling. If we were to be too intimate, tickets would be too expensive. Plus, we've got tastes for high-impact production and none of these things are cheap. We like to experiment and test different formats and recipes. Peppering in smaller iterations along the way while also throwing the big events is kind of where we're at right now."
---
Featured image: John Anderson